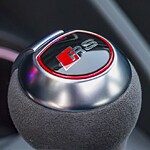 When it comes to luxury and performance, there are many automobiles that will feel this void. Fortunately, Audi makes one of the best. The new Audi RS 3 is the pinnacle of automotive excellence. This popular sedan has a gorgeous exterior as well as an intuitive interior. Let's check out how well this car performs.
The new Audi RS 3 is very gifted when it comes to performance and capability. This luxury-sport sedan comes equipped with a four-cylinder engine that's 2.5 liters in size. This particular turbocharged engine will crank out up to 394 horsepower. Pound-feet of torque is measured at 364. Thanks to having on-demand power, the Audi RS 3 will blast from zero to 60 mph in 3.9 seconds. Of course, this is power that you can feel, and the engine is paired with a seven-speed, dual-clutch transmission.
Get a free test drive of the new RS 3 by visiting our location at your convenience.